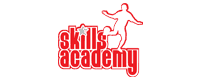 ---
The vision of Skills Academy is to provide an excellent service for its Community, which educates, inspires, develops and creates opportunities through sport.
Mike Delaney believes that he and his team can deliver sport in such a way that it benefits young people in more ways than just improving their sport skills.
Our Values
We want as many people as possible to share our love of sports and appreciate the good that it can do in the community.
We aim to achieve this by continually hiring the best coaches available to deliver exciting programmes to children from all areas of the community.
We will maintain good working relations with all schools, clubs and partners to ensure that we are working together to increase participation and enjoyment for everyone involved in sport.
A high quality service which is affordable for people from all economic backgrounds.
Respect for the customer and what their expectations are.
Commitment to maintain and increase participation levels through clever coaching techniques.
High level of performance relating to an agreement of targets.
Meet The Team
Every coach at The Skills Academy is FA Qualified, CRB police checked, Emergency First Aid and Child Protection Certified. There is a list of coaches who work for The Skills Academy- all of whom must adhere to the professional code of practise.
Each coach adheres to the Skills Academy Health and Safety Policy and works with a maximum number of 16 children at each session, recommended in FA guidelines.
The Skills Academy holds regular in house training days as part of good practise, which include presentations detailing new football programmes and any changes being made to existing ones. Coaches are given an itinery with a list of sessions they are booked in for with times, venues and addresses.
Practical workshops are held to ensure coaches have a clear understanding of the drills, practises and games they are expected to deliver.